Discussion Starter
•
#1
•
My duramax on Nitto Terra Grappler 285's, pics & a torsion bar question for you guys?
I just got my new tires put on today. I went from some Bridgestone Duelers in 265's to 285/75/16 Nitto Terra Grappler A/T's today.
I got a killer deal. My buddy has a wholesale account with 4 wheel parts and I got them for $124 each out the door (no tax) at the local 4 wheel parts place. $496 total! I am stoked about the price.
So I go have them put on and figured they might rub till I got it home to mess with the torsion bars. I never touched the torsions since I got the track (last week). The tires didnt rub at all, and dont look like its going to close even offroad.

Well I got under neath, and the driver side torsion is only 3-1/2 turns from being fully tightened in bottomed out. The passenger side looks like its about 4-5 full turns out less than the driver side, but the truck sits level.


I turned the driver side the 3-1/2 turns all the way in (bottomed out on stock keys) and turned the passenger side in 3-1/2 turns too.

The truck sits about an 1" higher now than it did, and its even on the tape measure.


Is it ok to have the torsion bar bottomed out on the drivers side??
Pics:
Before: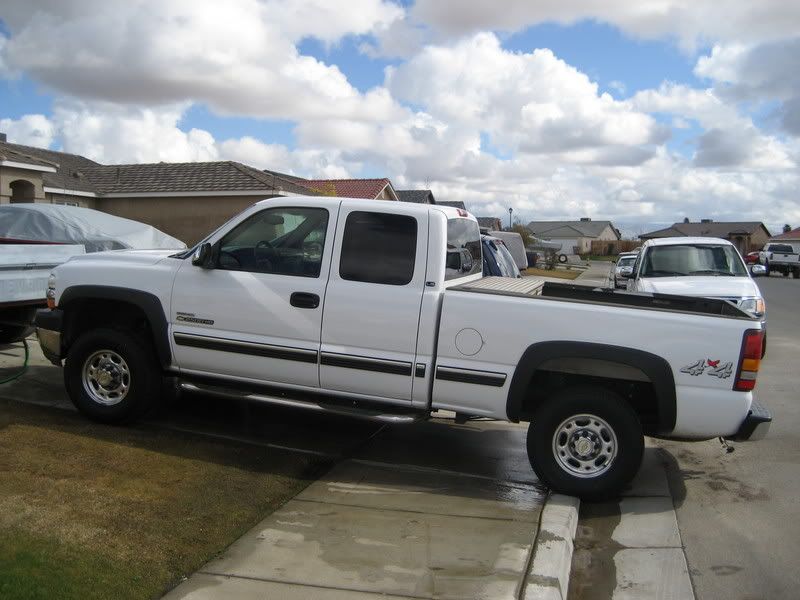 After: