Discussion Starter
•
#1
•
Ok, first off, most of us know you can download GMTDScan from
http://www.enghmotors.com/
and buy an ALDL cable that supports 8192 baud communication and scan your truck....but the cables seem to run $55-$75 and up! Which I found a bit silly.....if its a cable, then you can build your own....After looking around for a while and doing research on what other people have done to make their own ALDL cable I came across something interesting.....most people are making cables that go to a computer serial port.....which is simple but silly because most laptops don't use serial anymore....so you would have to covert from serial to usb and that cost money and a pain in the ass.....so i found a guy who did it a little simpler over on another site...(hope this is ok to post for educational purposes)
http://www.gearhead-efi.com/Fuel-Injection/showthread.php?719-Uber-easy-DIY-USB-ALDL
...
This how to will show you step by step how I took the info from the above thread and made it work with Engh Motor's GMTDScan Basic all for the total price of
$9.99!


First thing you need to do is purchase a FT232RL USB to Serial Module. I bought the "Arduino FT232RL USB to Serial Module USB to TTL level + USB Cable + dupont #248" on ebay. (item# 260917151841 from seller: polida2008) for $9.99 with free shipping.....yes it came from china and took like 2 weeks to get here....
When you get it and take it out of the package it should look like this:
the orange and brown wires will be still connected....I forgot to take a picture before I cut them lol, but you should have the "board", 4 wires and the usb cable.
Now the first thing you need to do is cut two of the wires in half, I choose the orange and the brown, strip both halfs of one wire (the orange in my case) and one of the halfs of the other wire (the brown in my case). You should now be left with this: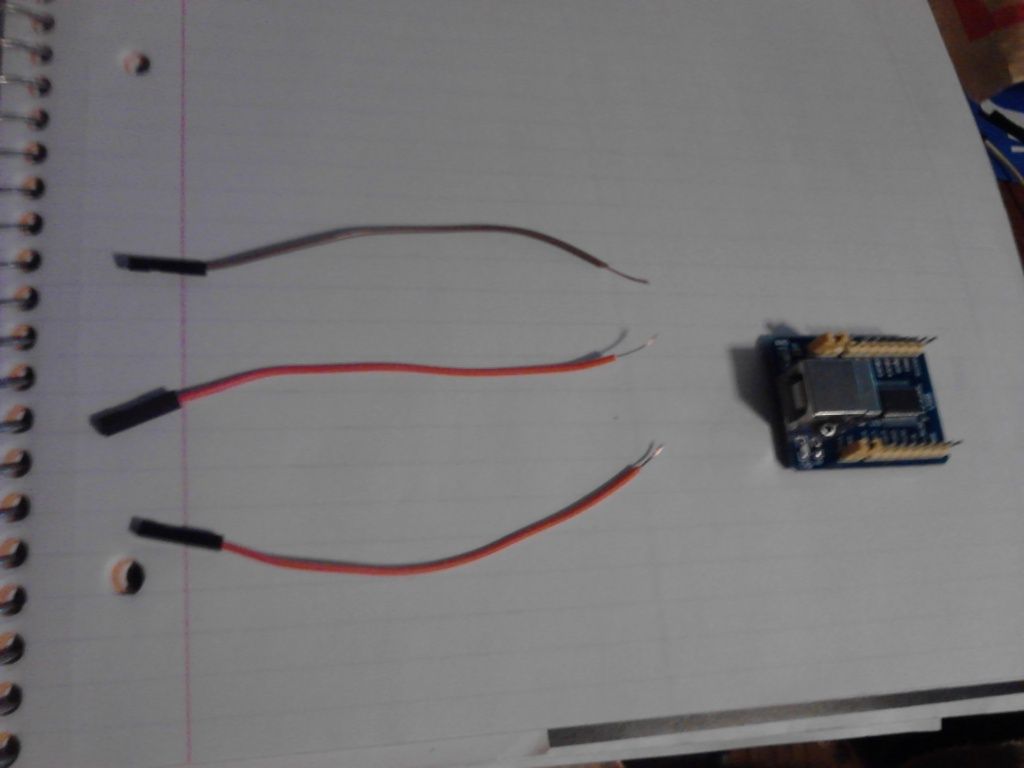 You can set the other two wires and the half of the one wire off to the side, you will not need them now....
Now you need to connect pins RXD and TXD together and have a wire lead coming off them. On the module, you will see that there is a jumper on these two terminals:
Just above the USB terminal in the center of the picture.
(don't mind the up close picture of my nasty finger...lol)
You need to remove this jumper so you have this:
Now take your two halfs of the same wire (my orange ones) and put one on the RXD pin and one on the TXD pin and take your other half wire (my brown wire) and put it on the GND (ground) pin that is in the top corner of the module so you now have this:
Ok now go find some 2 lead insulated wire, speaker cable, your neighbors phone line, ethernet cable, whatever you feel like using. (I found some old speaker wire that worked well) and hook BOTH wires of the same color (the RXD and TXD pins) together to one lead and the ground to the other. This is doing two things, it is connecting the two pins together like they need to be and giving you some wire to work with. The other end of your wire will be going to your ALDL OBD1 port under your dash so keep that in mind as far as length goes. Now you should have this: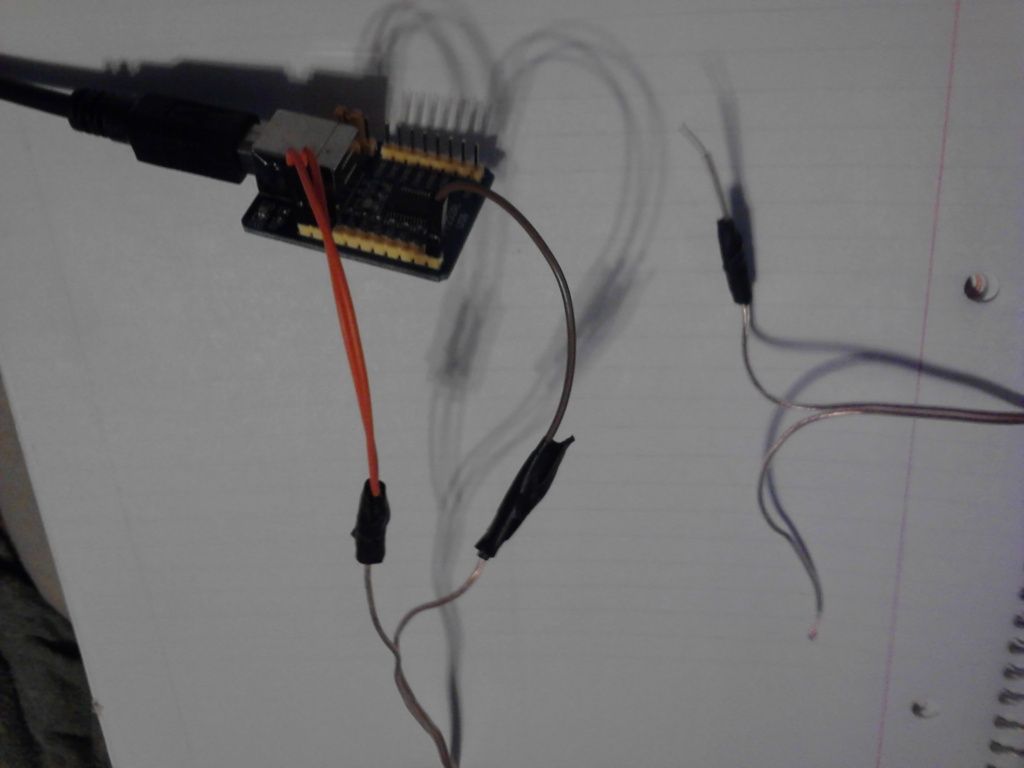 yes i just twisted and electrical taped mine together for now. I just wanted to see if this was going to work before i took the time to make all my connections nice. My lead wire aka speaker wire is about 3 feet long even though you cant see it all in the pic, I also marked the ground with a piece of tape so I didn't get them mixed up.
Now go ahead and hook up the usb cord to the module and to your computer (hopefully the laptop you will be taking with you to your truck. lol) you should get the red led light to come on to let you know the module is getting power:
Hopefully your computer "sees" the module:
(and before you ask, yes the next pics are of me taking a picture of the screen with my camera, I was too lazy to do screen shots so deal with it! lol)
In my case with Windows 7 Home Edition and an internet connection, the computer searched for the driver and installed it for me!
Yours might not say "COM3" like mine, it will depend on what USB port you use.
If you do not get this and/or your computer fails to find the driver on its own then you are going to need to google search for a "FT232RL USB driver" for your operating system. Since I did not have to do this, I can't give you much info on manually finding the driver. I did do a quick google search to make sure they are out there and I found a bunch of links so don't give up!
Ok now the "hard" part is done.
Now you need to go to
http://www.enghmotors.com/default.aspx
and download GMTDScan Basic for free.....follow his instructions and install it. After you install and have your usb module hooked up to your computer, you can follow his instruction in the program and do the ALDL interface test. It shoud find the module and tell you, you are ready to connect. You may need to select witch COM port you are using so it knows which USB port to look at.
Now you need to take your setup out to your truck and hook the wire that you connected your RXD and TXD pins to and hook it up to the ALDL port "M" which is the 8192 baud data pin. And take your ground and hook it to the ground pin of the ALDL port which is pin "A".
What it looks like under your dash:
yes you could get some little connectors that would push into the pins or buy an ALDL pigtail and wire it up to your leads, but for the purpose of testing, I just stripped the wires about 1/2" and doubled them over twice or so and pushed them into the pins and made sure they made decent contact. I think I am going to actually hard wire mine to the wires after the port and put my module in the dash or console so whenever I want to scan or datalog in the future, I can just shove the usb cable into the module and go.
Now you should be able to connect up the computer like you had it before, open GMTDScan and select Connect to Truck......and if you did everything right.....(yes i know, I took a picture of the computer screen again) lol
Now you can go to the "Dashboard" and play around with all the different things you now have live access to....
You can change what each of the 4 screens do from the drop down bars. Its pretty damn cool! You can now also read and clear your "check engine" codes with your laptop with the truck running!
The next step from here for me anyway is to use TunerPro RT (a free tuning and datalogging program) to datalog my truck and learn about tuning so I can get a Moates APU1 AutoProm and read my current chip, emulate and tune it with TunerPro RT and burn new chips. I have currently downloaded TunerPro RT and have had it recognize the cable and see it was working properly but I am still learning ALOT about TunerPro and have not yet located the correct definition file for TunerPro to communicate with our trucks yet. Im sure its out there and if not, Ill make one....but Ive only been messing with TunerPro for like 10 mins so Ill update this when I am able to datalog....